Career coaches may also provide some consulting services to achieve your goals, such as drafting your resume and helping you sharpen your interviewing skills. Importantly, career coaches should never promise they will get you a job or help you achieve a certain salary, because you hold the key to your success.
Career Coaching: The Secret Weapon to Advance Your Career
Do you need a career coach? Put it in the context of other things you do to keep your life on track.
You see a dentist regularly to keep your teeth clean and cavity-free. You get an annual physical, exercise regularly, and eat right to stay healthy. You even give your car an oil change every 3,000 miles to keep up a maintenance schedule and get expert mechanic advice. But what do you do for your career? When it comes to your professional life, a proactive approach is best. Having a trusted adviser, such as a career coach, is a secret weapon of executives across the globe, but you don't have to be a member of the C-suite to take advantage of this opportunity.
Coaches work closely with clients at every level to help them land the jobs they desire, but the relationship often doesn't stop there. Many professionals opt to stay in touch with their coaches to get career advice on an as-needed basis. This has proven to be a valuable asset that can bolster career growth and job satisfaction.
Reasons to hire a career coach (Hint: It's not just for executives)
Execs have a particular problem in that the higher they advance in their careers, the more treacherous the territory. In fact, we've found that upwards of 40% of executives hired at the senior level are pushed out, fail, or quit within 18 months. Ouch. It's precarious at the top of the ladder. Organizations are changing, being disrupted by technology, looking toward the future of work, and discovering new directions. It's happening in every industry: finance, insurance, commerce, retail, real estate. The list goes on. Management is expected to get on board with these sea changes that are rocking the status quo or risk getting left behind. That's why more executives are turning to career coaches. Especially if you've been in your company or industry for a while, it's easy to miss the forest for the trees. An outside perspective can be career (and life) changing.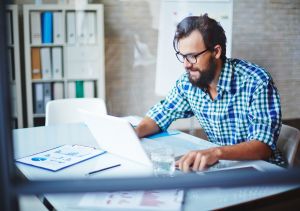 But this isn't an opportunity reserved for the C-suite. People in mid-career can benefit greatly from career coaching as well, whether to help them advance in their own companies or take the step to move elsewhere. It can be just as important, even more so, for mid-level folks to hire a career coach. It's a relatively modest investment that can pay great dividends.
You're thinking about switching jobs.
Having a career pro in your corner is an invaluable resource as you make the decision to jump into the job search pool. Without someone helping you chart the course, those waters can seem murky and foreboding.
You're feeling stuck in your career.
Maybe you have been passed over for a promotion or two. Maybe you're not getting the best assignments anymore. Maybe your career path at your current company has turned into a dead end. Whatever the reason, you're getting the feeling that this is it. You have no rung to climb and nothing to aspire to where you are. A career coach can help clarify your situation by looking at ways you can improve, and also help you assess whether the best move is to go elsewhere.
You're in between jobs.
In the aftermath of COVID-19, the employment landscape has changed. You may be one of the people who has been on furlough, or permanently let go, in the wake of the economic upheaval this virus has caused. A career coach can work with you to ensure you're taking your best self into the job market, help identify the best opportunities for you, help you shine up your resume, and more.
You need a little confidence boost.
What is a career coach?
A career coach is an expert in career planning who partners with you to maximize your potential and growth. Career coaches often have specific training in resume building, career planning, negotiation, interviewing, coaching, and motivation, and they know how to identify and build on your best personal and professional qualities to help you become more successful in your career.
Career coaches can give job seekers a competitive edge in a number of ways: They can help job seekers develop a unique personal brand that differentiates them in a crowded market. They can help job seekers mine the "hidden job market" for unadvertised positions, and leverage networking and personal connections to land a role. They can also help job seekers articulate their strengths and passions in professional communications, such as resumes, cover letters, "elevator pitches," and mock job interviews, that will grab hiring managers' attention.
7 signs you should consider hiring a career coach
You're experiencing job angst: If you're bored or frustrated with your job, but don't know what other career(s) you could pursue, enlisting a career coach is a valuable idea. Friedman says that many of her clients start with a vague sense of feeling overwhelmed without knowing why, and then come around to thinking, "'I need a trusted advisor to guide me and to hold me accountable as I try and figure out my career.'"
You're struggling with your job search: If you're sending out resumes without bearing fruit, a career coach can help. This might mean getting no calls in response to a resume, or not being asked to job interviews. For those who do get the call for an interview, a career coach can be a valuable investment if you're not receiving offers.
Your professional brand needs work: To market yourself, you need to consider your professional brand, and this starts with a strong resume. If you need help crafting a resume, cover letters, and other materials, or if you are seeking tips on how to present yourself in your best light in job interviews, a career coach can be a good choice. Career coaches can help craft resumes, cover letters, elevator pitches, and all the other facets of developing your professional brand to be successful in your job search or your career progression.
Your career has stalled: Another clear sign a career coach is for you: You're not moving up the career ladder, despite your hard work. "I also see clients who are trying to move up, who're being groomed for leadership and need help with navigating politics in the office and organizational change," Friedman says.
You're challenged to stand out from the crowd: It's important to present yourself as more than just a collection of skills and credentials. In extremely competitive labor markets, homing in on your unique strengths and passion can make all the difference, and a career coach can help you identify and build on those strengths, helping you to stand out as the perfect fit for that next role.
You struggle with self-motivation: Advancing your career is challenging work, and at times, even the most motivated individuals can find themselves slacking or burnt out. If you find yourself in need of someone "neutral" to hold you accountable for achieving your goals, a career coach is a good bet. Setting goals and milestones and mapping out a path and concrete steps to achieve those goals can be easier when a neutral third-party is holding you accountable.
You're ambitious: If you are looking to accelerate your journey to achieving your career goals, a career coach can be a catalyst. You can't expect your dream career to fall into your lap; you must prioritize success, and with a career coach by your side, achieving your professional goals can be that much more likely.
Even if you've identified the need for a career coach, if you struggle to look inside yourself for answers, a career coach may not be a solution at this time. A career coach can only take you so far, Friedman says. You must be open-minded and willing to work hard to identify your strengths and weaknesses and fight for the fulfilling career you want.
You think a career coach possesses all the answers and will find you a job: If you approach a career coach expecting the coach will connect you with a VP job in four easy steps, you may be disappointed. Career coaches are quick to point out that they can't perform miracles. What's more, the service is not a quick fix. "This is not a situation where the coach waves a magic wand and gives you magic insights and everything is all better," says Curt Rosengren, a career coach in Seattle who specializes in matching people with professions. "If what you're really trying to do is buy a solution, the solution comes from the work you do."
You're reluctant to self-assess, self-examine and, quite possibly, network: A career coach will almost always give a client something to do or think about in preparation for their next session. For example, the coach could ask you to take a personality test, to reflect on your best and worst work experiences, or to network in your spare time. It's in your best interest to put time into this work; otherwise you're wasting your time and money. While a career coach can help you identify your passions and help build up your strengths and mitigate your weaknesses, much of the actual work in improving your career prospects will come from within.
You have trouble opening up to others: For coaching to be effective, clients must be honest with themselves and their coaches, and both coach and client must be open to feedback and constructive criticism. Good career coaches won't be shy about asking direct, probing questions and will be open to hearing constructive feedback on what is and isn't working both in the general coaching process and in the job/career search. You shouldn't be either.
Sources:
https://getfive.com/blog/career-coaching-guide/
https://hbr.org/2022/02/do-you-need-a-career-coach
https://www.cio.com/article/220233/7-signs-youre-ready-to-hire-a-career-coach-and-3-signs-youre-not.html
Career coaching
We can get very wrapped up in our lives; work, home, eat, rest and work again, without much time to sit back and think what it is we really want. Beyonce, Barack Obama and the person who inspires you have the exact same hours in a day as yourself, so why can they be so happy and successful, when it seems you have no time?
Career coaching
The aim of career coaching is to help you understand what you want, the skills you need and how you can develop. A career coach will support you in making these initial steps, setting you on your way to a more fulfilling working life.
Our world today is one that celebrates being busy. Being busy is something that we strive for, despite the feeling of overwhelm – the feeling of having no time like you're drowning. Surely, being busy is a sign of success?
Well, not necessarily. You can be busy, but be in a job that you hate. One that makes you dread each morning, or you're sat at your desk each day, bored and unfulfilled. You may be busy, but that doesn't equal happiness.
And recognising this isn't easy. With so many responsibilities, it feels as though we can't afford to consider a career change. We have bills to pay, families to support and homes to maintain, shouldn't we be thankful we have a job at all, regardless of whether it makes us happy?
We spend so much of our lives at work and we deserve to be in a place that we enjoy. If you're unhappy, over time this can become worse and may bleed into other aspects of your life. It can affect your relationships, your social life and your mental and physical health.
Friends and family are great advisors, but sometimes, we need something more. If you feel like something's missing, you're unsatisfied with your career or you simply want a bit of guidance on where to go next, career coaching is one option that may benefit you.
Meet A Career Coach
I don't have an appointment. Can I walk in?
What is the benefit of making an appointment?
What information do I need to make an appointment?
What happens after an appointment is made?
Can I bring a person who did not book an e-appointment to come for the coaching appointment?
Can I transfer my appointment to my friend?
Can I cancel or reschedule my appointment?
Yes, you may cancel or reschedule one day in advance. However, please note that you may only be allowed to reschedule twice. If you have rescheduled more than two times or missed your appointments for more than 3 times, you will not be able to fix another appointment. Please call 6474 0606 for assistance.
What happens if I am late for my appointment?
I have encountered a technical error. What should I do?
I am currently being served by MAXIMUS or Ingeus, can I still make an appointment with a career coach from e2i?
If you are currently being served by any Career Matching Provider – MAXIMUS or Ingeus, we encourage you to continue working with them to optimize your job search journey and build efforts put in both by yourself and the provider.
Recommended for You
How A Beautician Successfully Reinvented Her Career
Practical ways for individuals to handle retrenchment
A Driver's Long Road Towards Career Reinvention
Who Says Mature PMETs Can't Learn New Tricks?
Job Security Amidst COVID-19: The Value of Training in Difficult Times
Job Security: How Much Is Within Our Control?
3 Questions to Ask Before Making a Career Switch
My Career Journey: From Lawyer to Nanny
5 Crucial Steps to Dealing with Disability in your Career
Mid-Career Switch… Unemployed In My 50s
Skills Upgrading
Job Matching
Career Guidance
Manpower
Training
Grant & Funding
Employment and Employability Institute Pte Ltd ("e2i") may collect, use, disclose and/or process any information relating to me (including any personal data provided by me to e2i) for skills-upgrading and job opportunities.
I hereby declare that all information provided by me in connection with this application is true, accurate and complete. I understand that any inaccurate, incomplete or false information given or any omission of information required, may at e2i's discretion, render this application invalid.
I hereby agree to inform e2i if there is any change in any of the details I have provided to e2i in this application. I understand and agree that it is my sole responsibility to inform and update e2i of any changes to my personal information. I hereby agree to indemnify and absolve e2i of any liability arising out of any use and/or disclosure by e2i of any inaccurate or incomplete information due to my failure to update e2i promptly of any changes to my personal information.
Application of Policy
This Policy is based on the Singapore Personal Data Protection Act 2012 ("PDPA") and all the associated regulations and guidelines as may from time to time be issued by the Personal Data Protection Commission ("PDPC").
Collection of Personal Data
For the purpose of carrying on e2i's business, you may be requested to provide personal data such as, but not limited to your name, contact details, NRIC number etc. For proper governance of the training grants and employment assistance that individuals receive, e2i (as a strategic partner of WSG) is required to collect the NRIC numbers of individuals to accurately establish or verify the identity of individuals.
Use of Personal Data Collected
The uses of personal data include the provision of employment and employability assistance, as well as fulfilling administrative, legal, audit and reporting requirements, data and statistical analysis and formulating and reviewing of relevant employment or social welfare policies. If we wish to use, disclose or process your Personal Data for any other purpose, we will seek your consent beforehand.
Disclosure of Personal Data
All personal data held by e2i will be kept confidential but e2i may provide such information to the third parties if it is necessary to satisfy the aforementioned purposes or a directly related purpose. In addition, any data transferred outside of Singapore is processed only in accordance with the PDPA and any other applicable law.
Withdrawal of Consent
If you wish to withdraw your consent at any time, please contact us at: 6474 0606. The withdrawal of your consent may result in us not being able to provide services to you.
Access and Correction of Personal Data
If you wish to access or change any information that you have provided to us, please contact us at: 6474 0606.
Accuracy of Personal Data
e2i takes reasonable measures to keep your Personal Data as accurate and complete, taking into account its use and the interests of our customers.
Protection of Personal Data
e2i takes reasonable measures to protect your Personal Data against theft, loss, as well as unauthorized access, copy, use, modification and disclosure.
Retention of Personal Data
e2i will retain your personal data only for as long as the purpose(s) for which it is collected and/or a business need exists.
Maritime Sea Transport Form
Register your interest
CQI-IRCA Approved – ISO 50001:2011 Energy Management Systems (EnMS) Auditor / Lead Auditor Training Course By Avanta Global Pte Ltd
Provide students with the knowledge and skills to perform, first, second and third party audits of Energy management systems to the current ISO 50001 standard. Provide confidence to organisations, regulatory authorities, accreditation bodies, certification bodies, businesses, and to stakeholders at large, that auditors certified to the Energy Management Systems Auditor program are competent.
Register your interest
Sources:
https://www.lifecoach-directory.org.uk/articles/career.html
https://e2i.com.sg/meet-a-career-coach/
https://www.noomii.com/career-coaching
Career coaching
In 2010 Luisa became a Senior Strategy Manager at PepsiCo where she worked closely with the leadership team to produce the Innovation and Growth Plan for Latin America Beverages to the PepsiCo CEO. The final deliverable included planned partnerships, possible acquisitions, product innovations and marketing campaigns. Luisa has worked in 3 continents, almost always with multinational teams.
Should You Hire a Career Coach?
Are you feeling unfulfilled in your current role? Have you applied to multiple jobs without success? Are you wondering if you are on the right career path? Do you want to switch industries altogether? If you said yes to any of these questions, consider hiring a career coach.
Career coaches are experts in career planning, resume building, interviewing and negotiating. While you may only search for a new gig or switch careers a handful of times in your life, these professionals are in the know of current hiring practices because they're constantly helping job seekers.
Key takeaway: If you have spent a long time at a job and are looking for a change, we have outlined how to smoothly transition to a new job mid-career.
10 Things You Should Know About Career Coaching
For some perspective, according to the latest unemployment data, some 11.8 million people are out of work in the U.S. And although there are no real stats to measure these folks, there are likely millions more who have gigs that they'd very much like to leave. Yes, that kind of tough.
Fortunately, there are a growing number of professionals out there who can help make your search a bit easier—people like Donna Sweidan, a certified career coach with over 15 years of experience in the field and the founder of careerfolk.com.
LearnVest sat down with Sweidan to uncover the art and science of career counseling—as well as to better understand how a career coach can help prep you to compete against those millions of fellow job-seekers.
Donna Sweidan: In my work, I approach it as a discipline comprised of two similar but distinct tracks: coaching and counseling. The goal is to support people in making informed decisions about their career development and trajectory, as well as offer various tools that they can use—résumés, cover letters, LinkedIn profiles—to meet those goals.
Although not all career coaches have clinical training, as I do, definitions of the field—and the work—may still vary among more conventionally trained coaches. In general, "coaching" tends to be a solution-oriented approach, which involves working with clients to see what concrete steps they can take to achieve career objectives. "Counseling," however, is more process driven—you look at whether there are any behavioral, emotional or psychological issues that could be impeding a person's desired career ambitions.
My top three? That a well-done résumé is all you need to conduct an effective job search—and that career coaches will actually find you a job. There's also the popular notion that you only have to attend a single career-coaching session . and your job challenges will be resolved. It actually takes about eight to 10 hours of counseling for the typical client to begin internalizing the key benefits of coaching.
By and large, clients can reasonably expect to gain career confidence, insight, encouragement and inspiration. They should also feel as if the coaching relationship grants them some permission to relax a bit. The job search can create a fair amount of anxiety, fear and vulnerability in people, and I often work with clients to unwrap those emotions so they can better understand how these factors may be keeping them stuck in their careers.
A recent client of mine couldn't break the pattern of just submitting resumes to online job postings—even though little came of it. After some prodding, she revealed that, because her parents both had bold personalities, it was her tendency to hold back. She struggled with being assertive, she was reluctant to ask for help and she was scared of rejection. I had to encourage her to develop the confidence that's essential for networking—the piece of the job search that she was avoiding.
There are also a number of assessments that career coaches can use to help clients, such as personality tests, interest inventories, accomplishment exercises that identify what people are most proud of and job-description analyses that can pinpoint the kind of work and workplaces that are the best fit for someone.
I also use what I call "360s," which involves getting constructive feedback from family and friends. I often ask clients to circulate a list of questions to colleagues and loved ones, and then I have the replies sent directly to me, so I can compile a report for the client to review—and hopefully contemplate.
While I believe that career coaching can be helpful at every point of someone's professional path, I would say that good career coaching in the early years of college or immediately post-college can put individuals on more solid footing—not just with a well-crafted résumé and a suitable career path, but also with a mindset that helps them understand that the career path of today is not as direct as it might have been in previous generations.
It should come as no surprise that I hear, "I hate my job, but I don't know what else I can do!" But what might be a bit surprising to some is that I also tend to hear things along the lines of "I have no idea what I can do with these skills," and "I need help pinpointing what exactly I want to do—and how to get there."
Job-search anxiety is also something that I frequently encounter. And, as of late, an ever-increasing number of clients expresses frustration with using social media, especially LinkedIn, as an aid in their career goals.
Take a recent client of mine—a former stay-at-home mom who was motivated to return to work, but was reluctant to use social media in her job search because she doubted its usefulness. After a few sessions of showing her how a community of like-minded people used such networks to get their message out, she came around to the idea. Within a year of working together, she landed a coveted job as a national outreach director—and she attributes it largely to her social network.
How to Book?
To enquire about coaching, or to book a session, please get in touch using the 'book a coaching session' form below and give your name, degree programme attended, time zone / location, and an indication of what support you are looking for so we can match you with the best coach.
Identify how you want your alumni coach to help and support you. Are you considering a career transition but don't know where to start or are you thinking about that first board role? Are you knee deep in your job search strategy and need support polishing your interview skills? Giving some thought to what you want to discuss will maximise the value of your session. To support your preparation, access our new digital career learning tool Alumni Careers² .
It's a good idea to go through your CV and revisit the key points. Use it to give the coach a sense of who you are and help them understand how you are marketing yourself to potential employers. Ideally, your CV should be tailored to each position you're applying for. At the very least, you should have multiple versions for different types of positions or employers. If you have multiple versions, provide the coach with your top two (for example, a chronological CV and a skills-based CV).
Your coach is not here to give you all the answers or find your job for you. You are in the driving seat and accountable for your own actions. Own it and the value you get from any career coaching session will be exponentially greater.
Frequently Asked Questions
Your lifelong relationship with the Alumni Career Centre allows for two free sessions per (calendar) year. Should you wish to continue your coaching relationship beyond this you are welcome to negotiate further sessions with your Alumni Career Centre coach directly if they have the capacity to take on further private clients. This cost will be borne by you.
Our career coaches have a breadth of experience supporting executives across different industries, sectors and roles. If your needs are very industry specific, you might better consider sourcing a mentor though The Hub, or exploring our Insights library for more industry specific information.
You can select the relevant coach from the list if you already have an idea of who might be the best coach to support your needs and challenges. Review our Coaches bios here, and when filling out your enquiry form select the relevant coach from the drop down list.
Sources:
https://www.businessnewsdaily.com/10919-hire-career-coach.html
https://www.forbes.com/sites/learnvest/2013/07/09/10-things-you-should-know-about-career-coaching/?sh=5428ced7d5ef
https://www.london.edu/alumni/career-and-learning/career-coaching